Cambodia Post VIP Van
In order to help travelers feel secure when traveling across Cambodia, BookMeBus has come up with a series of information regarding our authorized partners. One of the top operators BookMeBus has is with Cambodia Post VIP Van.
The Cambodia Post VIP Van boasts of having fast service to offer its customers. They also ensure that travelers are secure and comfortable during their trip.
What is Cambodia Post VIP Van service?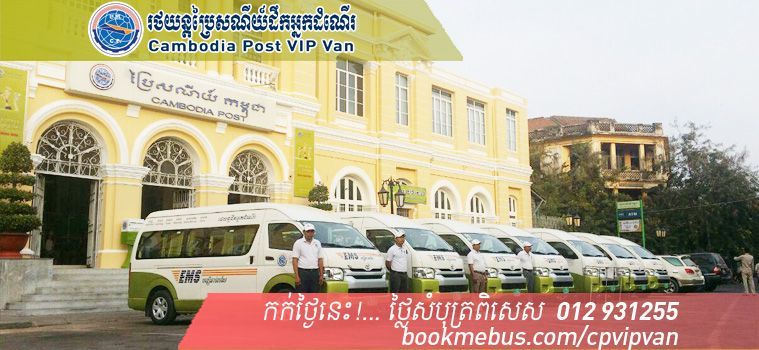 About a year ago, the state-owned Cambodia Post (postal service) launched a van service that helps cater to the increasing need for quality passenger transportation. Since then, the Cambodia Post VIP Van has gained popularity among travelers mainly due to comfort when travelling.
Buying bus tickets through this bus operator should not be difficult since it is available on our website. In addition, there are several branches that can be visited and routes to check out which are also listed HERE.
What do you get when travelling with Cambodia Post?
Should you opt to buy tickets with Cambodia Post VIP Van, you are sure to have the following perks:
drinking water
complimentary WiFi
passenger insurance coverage
Real-time seat selection – Cambodia Post VIP Van is one of the operators BookMeBus has that offers real-time seat selection. So you can get the seat you desire when you buy your bus tickets.
Other information you might want to know when buying bus tickets with this operator:
Seat #A1 is known to be narrow and not much leg room.
Passengers should be at the terminal 15 minutes before departure.
Tickets are considered VOID if passengers do not arrive on time.
Children over 5 years of age require tickets.
Passengers availing Pick Up services should be ready at the hotel or guesthouse lobby an hour before departure.
Passengers MUST present printed Online Tickets for inspection at the terminal prior to boarding.
Smoking inside the bus is prohibited.
Pets, weapons, illegal products and substances, and hazardous materials are not allowed on the bus.
Strong smelling food items (i.e., durian, prohok) are not allowed on board the bus.
For more information, please contact us through the contact details on the side.
Tags In